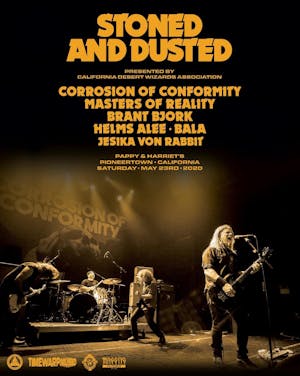 California Desert Wizards Association Presents
Corrosion Of Conformity
Masters Of Reality
Brant Bjork
Helms Alee, Bala, Jesika Von Rabbit
$60.00
Canceled
On Ticket Leap
Canceled https://cdwa.ticketleap.com/cdwa-presents-corrosion-of-conformity/dates/May-23-2020_at_0330PM
Another one bites the dust...
You probably could have guessed, but due to the continuing corona virus outbreak, Stoned and Dusted will be cancelled this year. We are bummed to have to do this, but don't see that it will be possible to throw this party in 2020. We agonized. We apologize. We are not planning to reschedule. We tried for a Plan B, but it's just not in the cards this year. We love you friends, we love you fellow California Desert Wizards, and we love this party too much to risk it. And so we are going to wait until 2021 - May 28-29-30.
TICKET HOLDERS: Check your email for more info about your tickets...
Please remember that some of your favorite bands have had to cancel their tours and will miss out on much needed income. We are all in it together so please support them if you can and buy their records and merch.
We hope you all are well and healthy. Fortunately, we remain healthy here at the CDWA headquarters. Let's all keep it that way and meet up in the desert for some much needed fun times in 2021.
Love and rock and roll,
Ryan, Brant and Mario
California Desert Wizards Association
CORROSION OF CONFORMITY
MASTERS OF REALITY
BRANT BJORK
HELMS ALEE
BALA
JESIKA VON RABBIT INSIDE AFTER SHOW PARTY.
Outside show.
Rain or shine, no refunds.
Doors at 3:30 PM; show from 4:30 PM-10:30 PM.
Check in at Will Call.
Pappy & Harriet's is all ages.
Children under 10 are allowed to attend the concert free of charge, however free entry is subject to capacity restrictions.
***Please note: THIS IS A NON SEATED SHOW
Tickets are GENERAL ADMISSION and NON REFUNDABLE
STANDING ROOM ONLY
No Dinner Reservations First come First Served. We will also have food and bar outside during the show
No Lawn Chairs
Bag Check at Will-Call
No In's and Out's
No Booze or Food allowed inside Pappy's from the outside world.
Saturday May 23rd, 2020
Pappy & Harriet's Pioneertown Palace
A Stoned and Dusted event presented by the California Desert Wizards Association.
On Saturday we are doing it up at Pappy & Harriet's Pioneertown Palace, our favorite dusty, desert roadhouse and one of the world's best music venues. Get ready for an outside show under the desert skies with Corrosion of Conformity, Masters of Reality, Brant Bjork, Helms Alee, and BALA. Stick around for Jesika von Rabbit inside Pappy's later in the night!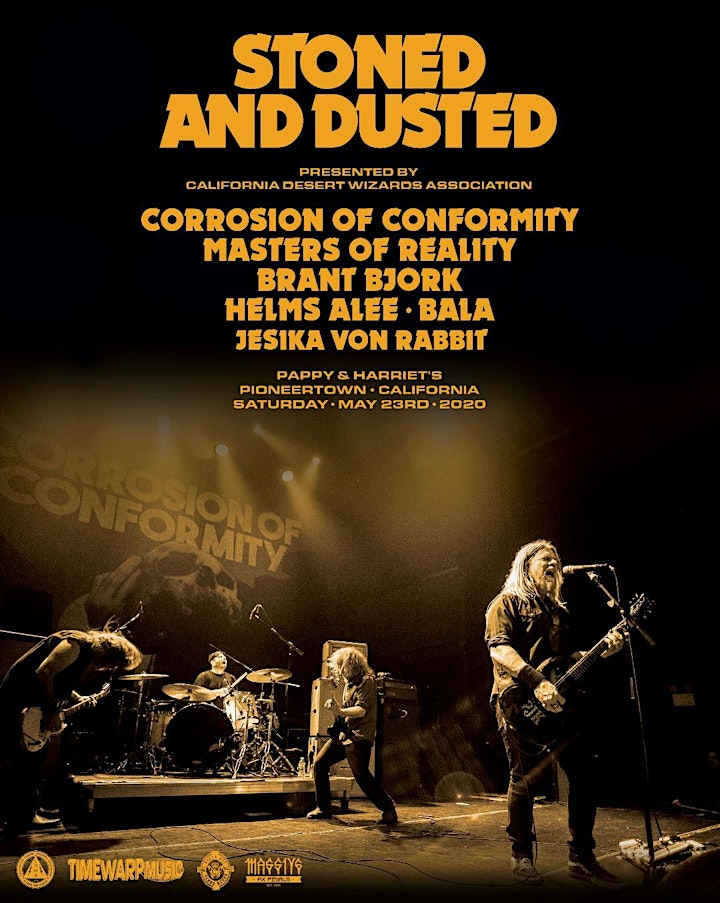 Venue Information:
Pappy & Harriet's
53688 Pioneertown Rd
Pioneertown, CA, 92268