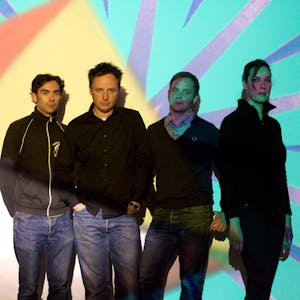 Canceled STEREOLAB
This show is now canceled and will not have any new date in the future. You will have a full refund. Please allow 12 days .
Thank you and stay positive out there!
Pappy & Harriet's + KCRW Present
STEREOLAB
w/ Deradoorian
OUTDOOR SHOW // MAY 15th // SOLD OUT
Tickets are general admission and non refundable
Standing Room Only/General Admission
Set Times are Subject To Change
No Backpacks
Bag Check at willcall.
One of the most distinctive alternative bands to emerge in the '90s, Stereolab either celebrated forms of music that were on the fringe of rock, or brought attention to strands of pop music -- bossa nova, lounge-pop, movie soundtracks -- that were traditionally banished from the rock lineage. Led by Tim Gane and Laetitia Sadier, the group's trademark sound -- a droning, hypnotic rhythm track overlaid with melodic, mesmerizing singsong vocals, often sung in French and often promoting revolutionary, Marxist politics -- was deceptively simple, providing the basis for a wide array of stylistic experiments over the course of their prolific career. On early singles and albums such as 1993's Transient Random-Noise Bursts with Announcements, Stereolab combined '60s pop melodies with an art rock aesthetic borrowed from Krautrock bands like Faust and Neu!, but by the time of 1996's Emperor Tomato Ketchup, their sound incorporated jazz, hip-hop, and dance. Their collaborations with John McEntire and Jim O'Rourke on albums such as 1997's Dots and Loops and 2001's Sound-Dust found Stereolab pursuing an increasingly intricate, experimental approach. Following the tragic 2002 death of member Mary Hansen, the band returned to a poppier style for later albums like 2008's Chemical Chords. Stereolab's unmistakable sound had a lasting impact: During the '90s, indie contemporaries such as Pavement and Blur aped their style, while hip-hop artists such as J Dilla and Tyler the Creator sampled the band's music or collaborated with its members in the 2000s and 2010s.

Tim Gane (born July 12, 1964; guitar, keyboards) was the leader of McCarthy, a London-based band from the late '80s that functioned as a prototype for Stereolab's sound. Gane met Laetitia Sadier (born May 6, 1968; vocals, keyboards), a French-born vocalist, at one of McCarthy's concerts. The pair began a romantic relationship that became a musical collaboration after McCarthy disbanded in 1990; Sadier sang on the final McCarthy album. The duo began recording as Stereolab, borrowing the name from Vanguard Records' hi-fi effects division in the '50s. Gane and Sadier also formed the label Duophonic Records with manager Martin Pike to release their singles. Stereolab's first year of existence was prolific: The debut EP Super 45 arrived in May 1991, followed quickly by the Super-Electric EP that September and the Stunning Debut Album EP that November. At that point, the group was working with Th' Faith Healers drummer Joe Dilworth and former Chills bassist Martin Kean; Gina Morris occasionally provided backup vocals.

Too Pure released the band's first full-length Peng! in May 1992, and the EP compilation Switched On in October. As with all of the band's releases from this era, both albums featured the visual trademark of a maniacally grinning cartoon taken from a '70s Swiss political comic (which the band named "Cliff"). That year, the band also issued the Lo-Fi EP and added keyboardist/vocalist Mary Hansen and drummer Andy Ramsay to the fold.

Released in early 1993, Stereolab's The Groop Played "Space Age Bachelor Pad Music" EP featured the core group of Gane, Sadier, Hansen, and Ramsay, along with ex-Microdisney guitarist Sean O'Hagan and bassist Duncan Brown. One of the first '90s alternative records to explicitly draw from the "Space Age" lounge-pop music of the '50s, The Groop became an underground sensation, paving the way toward Stereolab's first American record contract with Elektra Records. Their next album, and first American release, was Transient Random-Noise Bursts with Announcements. Released in August 1993, it became an underground and college hit throughout the U.S. and U.K. They followed it that October with Crumb Duck, a split EP with Nurse with Wound. Early the following year, the Jenny Ondioline EP became Stereolab's first charting release when it entered the U.K. Singles chart at number 75.

Stereolab soon became a hip name to drop for many musicians, including Sonic Youth, Pavement, and Blur, who had Laetitia Sadier provide guest vocals on their 1994 hit single "To the End." Where Transient was dominated by a lo-fi experimentalism, the group's sound became lusher and more layered with Mars Audiac Quintet, which was released in August 1994. O'Hagan moved from a full member to a part-time guest during the recording of the album -- he was busy forming his own band, the High Llamas -- and the band added keyboardist Katherine Gifford. By the time of Mars Audiac Quintet's release, Stereolab's style was prominent throughout the underground, and the group began to change its approach. Created for an interactive art exhibit by Charles Long, the limited-edition 1995 EP Music for the Amorphous Body Center boasted detailed, intricate string and vocal arrangements which were more sophisticated than the group's previous releases. That July, the band issued its second rarities compilation, Refried Ectoplasm, which was released on Drag City in the U.S. Before the band recorded a new album, Gifford was replaced by Morgane Lhote. Featuring contributions from Tortoise's John McEntire, 1996's Emperor Tomato Ketchup was an even bigger departure from the band's early drone rock, demonstrating a heavy hip-hop, jazz, and dance influence. It was Stereolab's greatest success to date, earning positive reviews in both the U.S. and U.K. and becoming a significant college hit in the process. After the recording of Emperor Tomato Ketchup, bassist Duncan Brown was replaced by Richard Harrison. That year, the band worked with Herbie Mann on "One Note Samba/Surfboard," which appeared on the Red Hot Organization's AIDS benefit album Red Hot + Rio. At the end of 1996, Stereolab released the limited-edition, horn-driven Fluorescences EP. For their next album, Dots and Loops, the band reunited with McEntire and recruited Mouse on Mars' Jan St. Werner; after its September 1997 release, it peaked at number 111 on the Billboard 200 chart. Another Nurse with Wound collaboration, Simple Headphone Mind, appeared that year, and singer/poet Brigitte Fontaine joined Stereolab on the 1998 single "Calimero," which featured the debut of Sadier's other project Monade on its B-side. Aluminum Tunes, the group's third rarities collection, appeared in October 1998.

After taking time off from touring following the birth of Gane and Sadier's first child, Stereolab resurfaced in 1999 with the intricate Cobra and Phases Group Play Voltage in the Milky Night, which featured production by McEntire and Jim O'Rourke. An EP, The First of the Microbe Hunters, quickly followed in 2000. Their seventh full-length, 2001's Sound-Dust, reunited the band with O'Rourke and McEntire and took a more melodic approach. In 2002, Sadier and Gane ended their relationship, but Stereolab continued. The collection ABC Music: The Radio 1 Sessions arrived that October, just a few months before Hansen died at the age of 36 when the bicycle she was riding was hit by a truck in December 2002. Following Hansen's death, the group soldiered on, releasing The Instant 0 in the Universe EP in October 2003 and the full-length Margerine Eclipse -- a tribute to Hansen -- in January 2004. After Elektra Records folded later in 2004, Stereolab returned to Too Pure, which released a series of six limited-edition singles collected on 2006's Fab Four Suture. The group re-teamed with producer/arranger Sean O'Hagan for 2008's Chemical Chords, a collection of short, poppy songs released by 4AD. Following their Australian tour in February 2009, Stereolab went on an indefinite hiatus. Not Music, a collection of material recorded during the Chemical Chords sessions, arrived in 2010. Subsequently, Gane formed the kosmiche-inspired trio Cavern of Anti-Matter, which also featured former Stereolab drummer Joe Dilworth. Sadier pursued several projects, including solo albums and the groups Little Tornados and the Laetitia Sadier Source Ensemble. In 2019, Stereolab ended their hiatus to play a series of concerts and festivals that coincided with deluxe reissues of their albums, beginning with Transient Random-Noise Bursts with Announcements and Mars Audiac Quintet that May. Emperor Tomato Ketchup, Dots and Loops and Cobra and Phases Group Play Voltage in the Milky Night followed that September, and Sound-Dust and Margerine Eclipse appeared that November..

Venue Information:
Pappy & Harriet's
53688 Pioneertown Rd
Pioneertown, CA, 92268