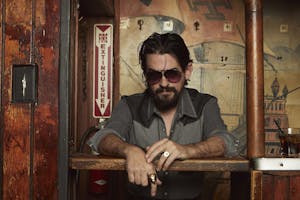 Pappy & Harriet's Presents
Shooter Jennings
Slim Jim Phantom
Sold Out. Thank You! ***2nd Show Added!*** Shooter Jennings Friday March 6th!
DOORS 7PM
SLIM JIM PHANTOM 8PM
SHOOTER 9PM
TICKET HOLDERS ONLY AFTER 6PM
***All Dinner Reservations have been reserved in advance for this evening. Sorry about that! If you get a seat at the bar, you can order from our full dinner menu there and we have a separate room for walk-in's only***
***Please note: THIS IS A NON SEATED SHOW
Tickets are GENERAL ADMISSION and NON REFUNDABLE
STANDING ROOM ONLY - INSIDE SHOW***
For nearly two decades, Shooter Jennings has defied expectation while constantly expanding the parameters of country, rock 'n' roll, and beyond. The scion of American music royalty, he has affirmed his own place in histories still to come as a truly limitless artist whose ambitious experimentation spans myriad genres and creative platforms, from releasing seven solo LPs, countless EPs, and founding his own label and multimedia outlet, Black Country Rock, to hosting his "Shooter Jennings' Electric Rodeo" on Sirius XM's Outlaw Country channel, producing music by Jamey Johnson, Wanda Jackson, and his mom, Jessi Colter, and the creation of acclaimed BBS Door games (available via his own BCRGames.com).
Ever the outlaw, Jennings has now crafted what might well be his most truly idiosyncratic work thus far, SHOOTER. Produced by longtime friend and collaborator, Low Country Sound founder Dave Cobb, at the renowned RCA Studio A on Nashville's Music Row, the album sees Jennings staking out a fairly straightforward goal: to simply make a great country record. It should be noted, Jennings' last studio album was a genuinely visionary tribute to Giorgio Moroder so in some ways, making a straight up country record is as much of a left turn as anything else in his brilliantly mercurial career thus far. But with songs like "Fast Horses & Good Hideouts" or the raucous "I'm Wild & My Woman Is Crazy," Jennings more than affirms his mission by returning to country's original, if oft misplaced, mandate: singing songs about growing up and getting older, about going out and getting trashed. In short, making music for real people with real lives. With SHOOTER, Jennings truly puts his own mark on country music, living up to his extraordinary birthright with unparalleled passion, experience, and heart.
Venue Information:
Pappy & Harriet's
53688 Pioneertown Rd
Pioneertown, CA, 92268