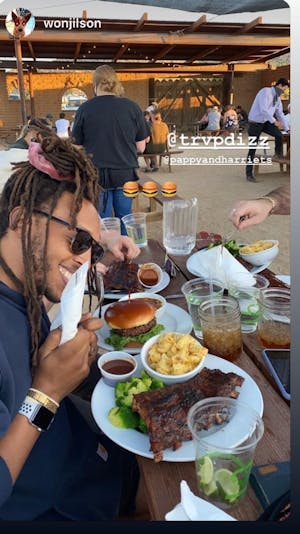 Pappy's is Open for Outdoor Dine In, Take Out + Delivery.
Friends and Neighbors!
***UPDATE!***
Here is the latest, folks!
"In a major rollback, California Gov. Gavin Newsom on Wednesday, July 1st, directed 19 counties, including Sacramento and Los Angeles, to shut down restaurants for indoor dining before the Fourth of July weekend.
Newsom also called on those counties to shut down indoor family entertainment venues including movie theaters, bowling alleys and arcades. Card rooms, indoor wineries and bars also have to shut down in those counties.
Restaurants will still be allowed to offer food for pick-up or delivery as well as outdoor dining."
Pappy & Harriet's is open for Outdoor Dine In Service
+ Take Out and Delivery.
Summer Hours:
Thursday: 11AM-8PM
Friday: 11AM-9PM
Saturday: 11AM-9PM
Sunday: 11AM-8PM
Closed: Monday-Wednesday
Do I have to wear a mask?
Yes. Once you are seated, you can remove at your table. Please wear a face covering when entering and moving about Pappy's.
What's up with the outdoor seating?
We have Shade Covering and an Outdoor Misting system in the Beer Garden and the Outdoor Stage Area. It's hot in the summer but it's nice!
Can I make a reservation?
As of now, we are not accepting any reservations. We must also limit parties to 10 people. We understand these changes can be disappointing, and very un-Pappy & Harriet's, but there are many guidelines to adhere to, and need to keep the flow moving inside and outside of the restaurant. This is all temporary and really out of our control, so please try to hang in there.
We Have Take Out And Delivery!
If you are uncomfortable sitting inside or outside, no problem!
We are offering Pappy's food to-go, and our friends at Desierto Alto will provide delivery!
You can walk up and order Take Out or call it in!
Please call 760 365 5956 (Main Number). If we are on the other line, call us back. If we are STILL on the other line, leave a message and we will call you back.
We are offering our full menu (some limitations), beer, wine and cocktails to go!
Last Delivery 7PM
Click HERE! for our Menu
Credit Card Payment Only
Desierto Alto will be handling deliveries for us.
-$15 Delivery Fee
-Delivery Towns- Morongo Valley, Yucca Valley, Pioneertown, Rimrock, Joshua Tree.
P+H is not fast food 🙂 Everything is fresh and cooked to order. Food may take a little longer than usual. Thanks for your patience!
So what about live music?
That's a tough one. Regulations change day to day. As of now, we cannot have proper "shows". Please keep checking for updates.
We can't wait to have live music again!
A Message from Pappy & Harriet's
If things didn't go perfectly at your visit to Pappy & Harriet's, would you please reconsider before writing a negative review? This pandemic has been hard on us all, but the restaurant and music business has really taken a hit. Shutting down for a few months may not seem like much, but it's like learning how to ride a bike again. If you can find it in your heart to give the hospitality industry some time to recover. We need all the positivity we can get 🙂 Please email us privately at pappy.harriets@gmail.com if you were not happy with your time at P+H and hopefully we can make it right!
Take some Pappy & Harriet's merchandise home with you by visiting our online store here!
All shows in March/April/May/June/July have either been rescheduled or cancelled.
You can keep your ticket for the new date or email pappy.harriets@gmail.com for a refund.
Venue Information:
Pappy & Harriet's
53688 Pioneertown Rd

Pioneertown, CA, 92268