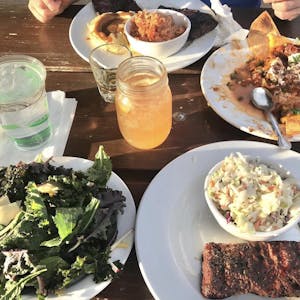 Pappy's is Open for Take Out + Delivery Only
We will Be TAKE OUT + DELIVERY ONLY Starting Monday Dec 7th, until restrictions are lifted
***UPDATE!***12/07/20
The vast region of Southern California was placed under new lockdown orders as the state scrambles to slow the rapid escalation of coronavirus cases that threatens to overwhelm hospitals.
The California Department of Public Health announced Saturday that a shortage of intensive care beds in the 11-county Southern California region had triggered the new measures.
The new restrictions will go into effect in Southern California at 11:59 p.m. Sunday and last for at least three weeks.
The new state stay-at-home order bans all on-site restaurant dining
Read more HERE
Pappy & Harriet's is open for Take Out and Delivery.
Winter HOURS
Thursday: 11AM-8PM
Friday: 11AM-8PM
Saturday: 11AM-8PM
Sunday: 11AM-8PM
Monday: 2PM-8PM
Closed: Tuesday-Wednesday
You can walk up and order Take Out or call it in!
Please call 760 365 5956 (Main Number). If we are on the other line, call us back. If we are STILL on the other line, leave a message and we will call you back.
We are offering our full menu (some limitations), beer, wine and cocktails to go!
Last Delivery 6 PM
Click HERE! for our Menu
Credit Card Payment Only
Desierto Alto will be handling deliveries for us.
-$15 Delivery Fee
-Delivery Towns- Morongo Valley, Yucca Valley, Pioneertown, Rimrock, Joshua Tree.
P+H is not fast food 🙂 Everything is fresh and cooked to order. We only have 1 Grill, so all grill items can take longer during peak business hours. Thanks for your patience.
A Message from Pappy & Harriet's
If things didn't go perfectly at your visit to Pappy & Harriet's, would you please reconsider before writing a negative review? This pandemic has been hard on us all, but the restaurant and music business has really taken a hit. We are not operating at 100%. I would say 55% is a good estimate. Our food and beverage deliveries are never on schedule, Servers, Expos + Bussers are walking city blocks from the kitchen to your table outside, lots of new staff, etc. We have a ton of new Covid Rules and guidelines we must adhere to stay open and serve you safely. If you can find it in your heart to give the hospitality industry some time to recover. We need all the positivity we can get 🙂 Please email us privately at pappy.harriets@gmail.com if you were not happy with your time at P+H and hopefully we can make it right!
Take some Pappy & Harriet's merchandise home with you by visiting our online store here!
Venue Information:
Pappy & Harriet's
53688 Pioneertown Rd

Pioneertown, CA, 92268