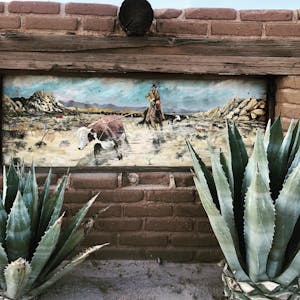 Open for Outdoor Dine In Service, Limited Take Out + Delivery
Pappy's is Open for Outdoor Dine In, Limited Take Out + Delivery
Take Out is Limited and all depends on how long the wait is for outdoor seating. Sorry for any inconvenience!
Friends and Neighbors!
***UPDATE!***11/20/20
A 10PM CURFEW HAS BEEN ACTIVATED FOR CALIFORNIA
Pappy & Harriet's is located in San Bernardino County, which is geographically, the largest county in the United States!
Can you believe that!? Neither can we. So what does this mean?
It means that our County is allowing outdoor dining only. Some of you are coming from other States that are allowing a certain percentage inside, but unfortunately, until our County enters California's Red tier, we can only serve outside.
The Hi-Desert is fortunate enough to enjoy four seasons, however, this means that Winter is coming!
We cannot express enough that the winter brings wind and cold, and has already brought some snow!
Our upcoming Winter hours may change depending on weather, so please keep an eye on this site for updates.
We have installed a large tent out back, but while we want to provide warmth and comfort to our customers, we need to be COVID compliant, and that means making sure the ventilation is on point. We have many heaters, but we cannot guarantee that dining areas will be warm. Please dress appropriately or consider doing take-out!
Unfortunately, as much as it is warm inside, we cannot allow anyone to hang out inside the building. You are welcome to grab a drink at the bar, and go to our drinking area outside. You are welcome to come inside to use the restrooms!
We really miss having you inside the club, dining and enjoying a show!
Pappy & Harriet's is open for Outdoor Dine In Service
+ Take Out and Delivery.
(TAKE OUT is LIMITED DURING PEAK BUSINESS HOURS.)
Example: 1PM-3PM + 5PM-7PM
FALL HOURS
Thursday: 11AM-9PM
Friday: 11AM-9PM
Saturday: 11AM-9PM
Sunday: 11AM-9PM
Monday: 4PM-9PM
Closed: Tuesday-Wednesday
Do I have to wear a mask?
Yes. Once you are seated, you can remove at your table. Please wear a face covering when entering and moving about Pappy's.
What's up with the outdoor seating?
We are in the colder months out here in the desert. There is a tent by the Outdoor Stage Area, and our beer garden is comfortable. We have space heaters and we are working to make it more of a pleasurable dining experience for you.
The desert tends to be windy sometimes, so if the wind picks up, we will most likely have you get some Pappy's food to go.
Can I make a reservation?
As of now, we are not accepting any reservations. We must also limit parties to 10 people. We understand these changes can be disappointing, and very un-Pappy & Harriet's, but there are many guidelines to adhere to, and need to keep the flow moving inside and outside of the restaurant. This is all temporary and really out of our control, so please try to hang in there.
You can walk up and order Take Out or call it in!
***Sorry for the inconvenience, but during peak business hours, we will be unable to do take out***
Please call 760 365 5956 (Main Number). If we are on the other line, call us back. If we are STILL on the other line, leave a message and we will call you back.
We are offering our full menu (some limitations), beer, wine and cocktails to go!
Last Delivery 7PM
Click HERE! for our Menu
Credit Card Payment Only
Desierto Alto will be handling deliveries for us.
-$15 Delivery Fee
-Delivery Towns- Morongo Valley, Yucca Valley, Pioneertown, Rimrock, Joshua Tree.
P+H is not fast food 🙂 Everything is fresh and cooked to order. We only have 1 Grill, so all grill items can take longer during peak business hours. Thanks for your patience!
So what about live music?
That's a tough one. Regulations change day to day. As of now, we cannot have proper "shows". Please keep checking for updates.
We can't wait to have live music again!
A Message from Pappy & Harriet's
If things didn't go perfectly at your visit to Pappy & Harriet's, would you please reconsider before writing a negative review? This pandemic has been hard on us all, but the restaurant and music business has really taken a hit. We are not operating at 100%. I would say 55% is a good estimate. Our food and beverage deliveries are never on schedule, Servers, Expos + Bussers are walking city blocks from the kitchen to your table outside, lots of new staff, etc. We have a ton of new Covid Rules and guidelines we must adhere to stay open and serve you safely. If you can find it in your heart to give the hospitality industry some time to recover. We need all the positivity we can get 🙂 Please email us privately at pappy.harriets@gmail.com if you were not happy with your time at P+H and hopefully we can make it right!
Take some Pappy & Harriet's merchandise home with you by visiting our online store here!
Venue Information:
Pappy & Harriet's
53688 Pioneertown Rd

Pioneertown, CA, 92268