Los Hermanos Cosmico DOORS 6PM / SHOW 7:30 PM
Due to the extreme fires raging all over California we must re-schedule Los Hermanos Cosmico to these new dates Sept 29 & 30, 2020. Please join us as we pray for everyone who is being displaced and all those that have lost their homes due to these unprecedented wildfires.
If you are unable to attend the new dates then you may request a refund between now and Sept 5, 2020 by 4pm. You can also transfer the name of the ticket buyer but you must provide an email contact for the new ticket holder as we will be sending critical show details to anyone that attends these very special (limited capacity) socially distanced seated shows.
Let's all join together and help our neighbors out here. California is one community. We will rise over this darkness.
LOS HERMANOS COSMICO
Featuring:
CR / Farmer Dave Scher / B. Rad / Barry Sless
Camilia Saufley / Ben Knight / Alex Koford
performing selections from the songbooks of
CRB, Beachwood Sparks & more...
LIVE at Pappy & Harriet's
Outdoor ULTRA LOW CAP Seated & Distanced Show
Mask & Temperature Check Required For Entry
New Date! September 30, 2020
Gates 6:30/Show 7:30
Mask & Temperature Check Required For Entry
No Mask, No Entry
No Refunds, All Sales Are Final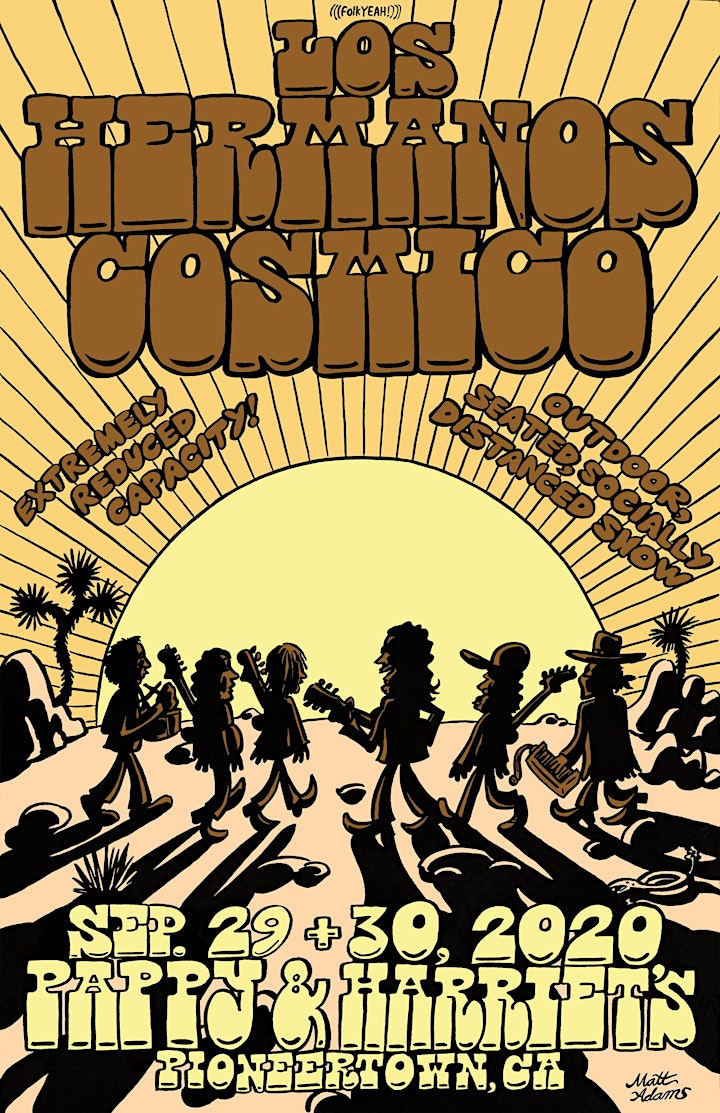 Venue Information:
Pappy & Harriet's
53688 Pioneertown Rd
Pioneertown, CA, 92268