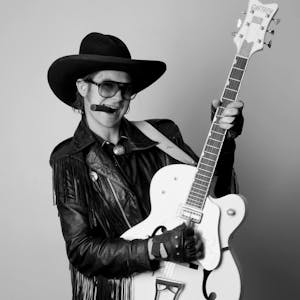 Pappy & Harriet's Presents
Johnny Travis Jr.
Starlight Cleaning Co
Free Show / 7:30PM JOHNNY TRAVIS Jr. w/ STARLIGHT CLEANING Co.
He may be less than half the age of outlaw country's great icons, but Johnny Travis Jr. has done as much living, loving, and hard-drinking as any of them.
An only child born into a musical family in Polk County, Oregon, some his earliest memories are of falling asleep in the front seat of his father's tour van outside of the roadhouses and honky-tonks of rural Oregon. Johnny Travis Sr. was a man of few words, but he showed his affection for his son in songs like "My Boy's Got a Big One" and "Junior Ain't So Junior Anymore." By the age of five, Junior was occasionally filling in on drums for his father's band, Mackenzie Express.
By then it was too late. As Johnny Travis Jr. entered his teenage years, he was touring with his father full-time, playing bass and singing backup harmonies on cover songs and raunchy originals like "Take Your Time, Darlin' (I Ain't Paying You By The Hour)." Though the band's touring circuit only stretched from Northern California to Southern Washington, its reputation for barn-burning performances (Junior recalls one drunken fan setting an actual barn on fire in a show outside Prineville) preceded it.
At a state fair show in 1994, the Mackenzie Express played opposite of Junior's boyhood idol, Marty Stuart, and Stuart happened to catch the tail end of the show. He was so taken with Junior's performance that he dubbed the young man a "bonafide Country Music Superstar!" The title stuck, but Jr.'s ascent to superstardom would not come easy.
After dropping out of high school in 1997—a decision that Junior says devastated his father, who wanted him to be the family's first high school graduate—Johnny Travis Jr. formed his own Stars'n'Bars Band with another dropout friend, Frankie Halpern. With its outrageous stage antics, bourbon-smooth ballads, and hard-driving take on traditional honky-tonk, the group won critical acclaim and, in 1999, a doomed deal with Capitol Records.
During this period, and indeed throughout Johnny Travis Jr.'s career, the band was actively recording material that, due to label politics and various legal problems, rarely saw the light of day. Laurel Stearns, an A&R rep with Capitol at the time, admits that "the national palette was changing" at the time. "Unfortunately, we were shelving the more traditional country and western releases left and right. We all knew that we had something special with Johnny, but all we heard from the top was 'Bring me the next Savage Garden,' or 'Can we get Rob Thomas?' You know, all great artists, but it was just not an environment that rewarded Johnny's brand of music. I do feel bad about that." Only a seasonal song, the minor hit "Workin' On Christmas," would see the light of day from these sessions.
When the Capitol deal finally fell through in 2000, Junior viewed it as a fresh start. He met Nashville singer-songwriter Gary Coyote, and the pair began penning songs together in one of Junior's most prolific periods. With Coyote providing nearly all of the backing instrumentation, the pair recorded a new batch of songs. But Junior's bad luck streak surfaced again when the Nashville-based independent label that signed Junior as its first artist, Fangadang Records, dissolved before its debut release. Despite the considerable success of its advance single, "Bootprints in the Sand," the album was totally shelved. Travis Jr. swore off Nashville and embarked on a year-long drug and alcohol-fueled solo tour that culminated in a handful of dates with alt-country up-and-comer Ryan Adams in Los Angeles. It was after one of those shows that Junior met his future wife (later immortalized in his classic break-up ballad, "The Best Part of Lovin' Her"). Gary Coyote recalls Junior announcing the engagement in a drunken phone call. "I said 'are you serious, Johnny?' and he said 'I'm never serious, but I'm getting married.' Then he asks me to come out and get the band back together in L.A.," Coyote recalls. "I said 'nothing's ever easy with you, is it Junior?' And he said 'I'm booking your ticket right now.' Hell, that was that."
But Los Angeles would not mark the end of Johnny Travis Jr.'s struggles. His subsequent full-length with Coyote, Here's Johnny, was on the verge of release when a newly divorced Johnny Travis Jr.'s motorcycle accident broke a half-dozen bones and took the frontman out of commission for nearly a year. (Coyote recorded a solo release, Occasional Fruit, while Travis was in recovery, but it too was shelved after a two-year label fiasco.)
It wasn't until 2007, a full-decade after the formation of the original Stars'n'Bars band, that Johnny Travis Jr.'s first release—the self-recorded and self-released I Picked It—would see the light of day. Somewhat ironically, Junior came to loathe the release (recorded amongst friends and well-wishers in the quasi-live tradition of the Beach Boys' Beach Boys Party) and later claimed to have burned the master tapes and buried them somewhere outside of Reno, Nevada.
Battling with depression, Johnny Travis Jr. entered semi-retirement after the release of I Picked It, but a flattering full-page feature in Country Times magazine in 2009 stoked fan interest and prompted ex-Stars'n'Bars member Andrew Tonry to reach out to Junior about a reunion. Back in Los Angeles, Junior formed All-Star Stars'n'Bars band and recorded the thirteen songs that would comprise Johnny's Back for the Kountry Klassix imprint. That record, too, would be shelved due to severe label mismanagement. Making matters worse, it would later surface that Junior had fronted the label thousands of dollars for recording and promotions. His investment would never be recouped.
In 2011, Johnny Travis Jr. swore off music altogether and took odd jobs in Antelope Valley, California. But Andrew Tonry had different plans for Junior's legacy. Unbeknownst to Junior, he had already begun the process of buying back master recordings and paying off the singer's significant debt to previous labels. And in 2013, Tonry and Junior began the arduous process of reconstructing the career of a lost country music legend.
The greatest hits compilation that ensued pulled from Travis' three major records, all unreleased nationally but widely bootlegged by honky-tonk die-hards. There's the bouncy "Workin' On Christmas," from 2003's ill-fated Bootprints In the Sand. There's "I Can Always Count On You (To Let Me Down)," an enduring fan favorite. There's the bittersweet "The Best Part of Loving Her." And the covers are here, too, from Graham Parker's "Bad Chardonnay" to Luke McDaniel's "You're Still On My Mind." Five tracks from the All-Star Stars'n'Bars Band release Johnny's Back (2009) are included, including Travis's own "Ten Gallon Hat (Full Of Tears)" and the second Travis-penned Christmas single, "(I Bet You Didn't Know That) Santa Can Rock."
After nearly two decades of heartbreak, and with the help of new patrons Music Records INTL, Johnny Travis Jr. has finally caught a little luck. It has been a hard road, but as Johnny always says, "Like my daddy always says, 'If the road was too soft, you'd fall asleep at the wheel.'"
Starlight Cleaning Co.
Starlight Cleaning Co. is a Mojave Desert band fronted by Rachel Dean and Tim Paul Gray. Their paths were interwoven for nearly a decade before formally meeting in May of 2015, when they played a show together at Pappy and Harriet's in Pioneertown, CA. Rachel had previously played under her own name, having released an album titled Indian Summer, produced by Rob Campanella (Brian Jonestown Massacre) and the late, great Neal Casal (Chris Robinson Brotherhood, Ryan Adams). Rachel also fronted two bands prior – War Children and The Hot Fudge Sunday (Pappy and Harriet's Sunday house band). Tim fronted Orange County based bands The Delusions and Charles Mansion. As a duo, Rachel and Tim have toured with Tommy Stinson (The Replacements, Bash And Pop, Guns 'n' Roses) and on their own, throughout the country.
Two years ago, Rachel and Tim did something they had wanted to do for a while – they turned their solo act into a full band, Starlight Cleaning Co. Featuring Tim's timeless songwriting and Rachel's versatile vocals, Starlight Cleaning Co. is an operation that somehow sounds like they could have thrived in both the 1970s/1980s and the 2010s/2020s. Drawing inspiration from Elvis Costello, Chrissie Hynde, Alex Chilton and Dwight Twilley as well as girl groups from the 1960s, and late 1970s/early 1980s punk and power pop; Starlight Cleaning Co.'s male/female fronted dynamic is pure, soulful, and beautifully focused.
Somewhat recently, Starlight Cleaning Co. brought a crew out to the High Desert to hole up for a week and record an album. The songs were tracked at Rachel and Tim's home studio, Starlight Sound, where Vetiver recorded their 2019 record Up On High. Their recording crew comprised the LA/SF blue-eyed-soul and soft rock troubadour, Bart Davenport (The Bedazzled, The Loved Ones, The Kinetics) and LA's "indie king" Joel Jerome (Dios, Cherry Glazerr, La Sera). Bart, acting as producer and Joel as engineer, worked with Starlight Cleaning Co. to create a powerful and sincere record. There are even some special guitar solos from their recently departed friend and mentor, Neal Casal.
After mixing and mastering, the end result is an ageless album that swirls cosmic Americana of the High Desert with shimmering power pop and forward-thinking indie songcraft. Starlight Cleaning Co.'s songs are laced with barbed melodic hooks that dig deeper into your heartstrings with repeated listens. Rachel and Tim's voices tower over these tunes with an uncanny chemistry – she sings in a soaring perfect pitch, belted straight from the heart and performed with a natural fervor that could singlehandedly bring back the power ballad. Tim is an authentic pop crooner whose timbre balances zeal and verve, trimmed with a touch of twang. Together in harmony, they recall the great male-female duos of the 20th century, such as Buckingham-Nicks, Sonny & Cher, Gram and Emmylou, John Doe & Exene. Their record will be out in 2020.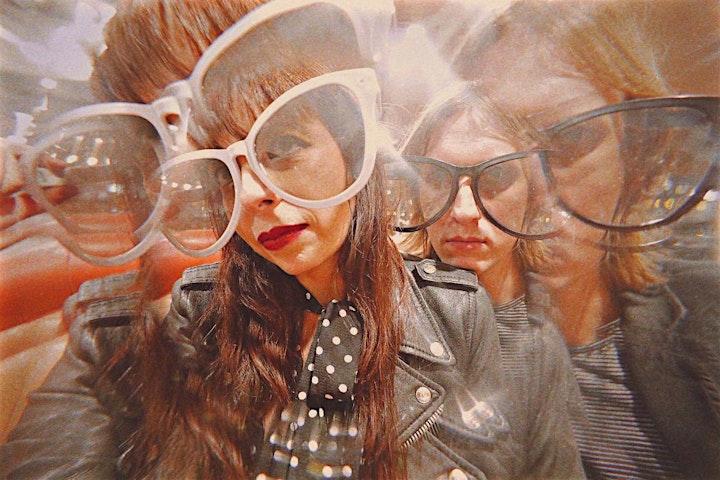 Venue Information:
Pappy & Harriet's
53688 Pioneertown Rd
Pioneertown, CA, 92268