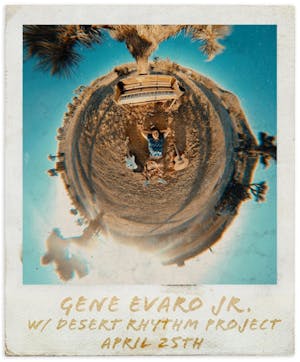 Pappy & Harriet's Presents
Gene Evaro Jr.
Desert Rhythm Project
Postponed - New Date Soon! You can keep your ticket for the new date or get a refund by emailing : attendeesupport@eventbrite.com
TICKET PRICE:
$20 / $25
SET TIMES:
8pm - 8:45pm - Desert Rhythm Project
9pm - 10:30pm - Gene Evaro Jr.
Gene Evaro Jr. Bio:
Gene Evaro Jr. VIDEO LINK:
https://www.youtube.com/watch?v=fcI14KM1OWU&feature=emb_title
"Every time you see Gene Evaro Jr. play, it feels like it might be the last because they have all the makings of a band skyrocketing to much bigger frontiers. If it's not enough to be a scorching guitarist and keyboardist, Evaro Jr. also has a voice drenched in honey. Throw in captivating charisma and you have the infectious spirit of a natural born entertainer. His band is tapped into a funky soul, R&B aphrodisia mixed with shimmering rock. Their original material speaks to the universal state of mind of the present. It is a show where you'll walk away tingling from head to toe."
Hailing from Joshua Tree, California, Gene Evaro Jr's sound is a mixture of soul, folk, electronic and funk. Gene Evaro Jr has the power and dexterity of Earth, Wind & Fire, and the music has the soulful craftsmanship of Stevie Wonder. Evaro can sing, play and lead in a way that brings to mind Stephen Stills or Prince. Watching Gene Evaro Jr and his band feels like you are experiencing some grand force of nature spiritually, like making love in a hurricane or testifying to the heavens in a meteor shower.
Gene Evaro Jr is currently touring in support of his third full length album "Like its 1965". Gene Evaro Jr's formidable and dedicated following is rapidly expanding beyond So-Cal, fueled by national tours supporting Xavier Rudd, Milky Chance, Elle King, Blues Traveler, Moonchild, Cory Henry, Mono Neon, Galactic, St Paul & The Broken Bones, Antibalas and prominent festival appearances at High Sierra Music Festival, Lightning In A Bottle, Wanderlust Festival, Lucidity Festival, Hang town Music Festival, Joshua Tree Music Festival, and Guitarfish Festival. Gene Evaro Jr's works have been featured on the network television show Deadliest Catch and Ian Somerhalder's Time Framed Series
Desert Rhythm Project Bio:
Desert Rhythm Project is a Neo-Roots, Reggae, Funk, Soul band from California's Mojave Desert. Fronted by desert natives Michael Reyes and Bryanna Evaro who have created their own unique style comprised of soulful harmonies, effortless melodic guitar techniques, and smooth elemental bass rhythms. Michael Reyes' dynamic presence on lead vocal and guitar is reminiscent of the soulful and energetic James Brown combined with the appreciative ethereal consciousness of reggae legend Bob Marley. Bryanna Evaro's timeless velvety folk-roots presence on bass guitar and vocals lends herself as the crowning essential counterpart of this celebrated divine duo. Backed by the energetic and talented Scot Kissinger on trombone, this high energy Reggae, Funk band is a force to be reckoned with.
DRP Has Had The Pleasure Of Playing Reputable Music Festivals Such As The Joshua Tree Music Festival 2013-2020, Wanderlust Festival, Dabolition Derby, Mt. Baldy's Elevated Summer Solstice 2014, 2015. 1st Annual Mammoth Root Jam. Along With Opening The Stage For National Touring Acts Such As "EN Young", "Fortunate Youth", "The Expanders","Mike Love", "The Expendables", "Iyaterra", "Tribal Theory", "Giant Panda Gorilla Dub Squad". Reyes And Evaro Had The Honor Of Receiving The Prestigious Coachella Valley Music Award For "Best Duo" And "Best Reggae Band" In 2014, 2015 And 2016. Keep An Eye Out For This Gracefully Crafted Magnetic Band That Is Desert Rhythm Project.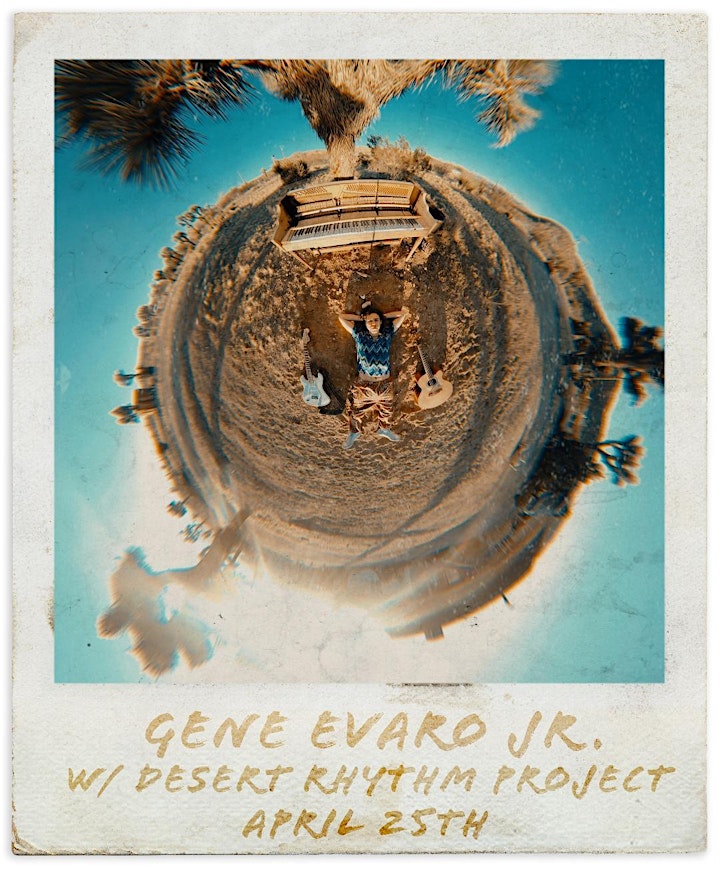 Venue Information:
Pappy & Harriet's
53688 Pioneertown Rd
Pioneertown, CA, 92268