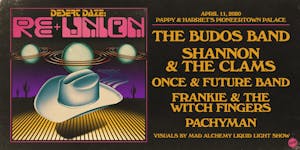 Postponed
Hi everyone.
We hope you're all hanging in there.
I'm sure you've seen your fair share of notices and suggestions from festivals, so we'll just leave it at: 1) stay home (as much as possible) 2) wash your hands 3) watch out for misinformation.
In an effort to slow the spread of coronavirus, RE+UNION will be rescheduled to a later date this year. All tickets will be honored for the new dates. Refunds will be made available to anyone who can't make it.
Everyone's health and safety is our top priority. We are taking an hour by hour approach as we closely monitor updates from credible sources like the CDC, WHO, state and local authorities. We will update everyone soon.
Love,
Desert Daze
DESERT DAZE: RE+UNION
SATURDAY, APRIL 11 & FRIDAY, APRIL 17 AT PAPPY & HARRIET'S
Performances from The Budos Band, Shannon & The Clams, A Place To Bury Strangers, Mdou Moctar, The Entrance Band, Princess Goes To The Butterfly Museum & more
Tickets on Sale Now via ​www.desertdaze.org RE+UNION​ will harken back to the spirit of the very first ​Desert Daze​.
Desert Daze: RE+UNION
____________________________________
SATURDAY, APRIL 11TH
THE BUDOS BAND
SHANNON & THE CLAMS
ONCE & FUTURE BAND
FRANKIE & THE WITCH FINGERS
PACHYMAN
*VISUALS BY MAD ALCHEMY LIQUID LIGHT SHOW
____________________________________
FRIDAY, APRIL 17TH
A PLACE TO BURY STRANGERS
MDOU MOCTAR
PRINCESS GOES TO THE BUTTERFLY MUSEUM
THE ENTRANCE BAND
PRETTIEST EYES
*VISUALS BY SNAKE CHIME ZEN & SLIM REAPER
Capacity for these shows is extremely limited and they will sell out. Single Day and Two Day passes are available now. More information at www.desertdaze.org.
2012 was another time. Coinciding with the ancient tradition of Coachella expanding to two weekends, a small desert roadhouse asked two LA musicians, pure of heart, to take over their entertainment programming. Legend has it that with a little luck and electric pigeons sent to every band they knew, an implausible 122 bands were booked to play over 11 consecutive days. The outcome was an unprecedented synthesis of community, art, and music tailored to seekers of "the experience" over corporate-branded reality, which put the now beloved Desert Daze on the map.

In celebration of the celebration, Desert Daze will host two special concerts at the greatest venue on planet earth, ​Pappy and Harriet's in Pioneertown, CA ​on ​Saturday, April 11 with sets from ​The ​Budos Band, Shannon & the Clams ​and more, and ​Friday, April 17 with sets from ​A Place to Bury Strangers, Mdou Moctar and more. In the spirit of life, rebirth, fertility, and proper hydration, we invite you to inaugurate a new spring tradition with us. Both shows will be indoor and outdoor on two stages, with lots of bands, a select group of familiar Desert Daze installation art, and visuals by ​Mad Alchemy, Slim Reaper​ and​ Snake Chime Zen.

These shows will be extremely limited in capacity and expected to sell out so please act fast. Limited hotels are available in the direct area - contact the Pioneertown Motel today - with plenty of camping available in the area including Pioneertown Corrals, both located just behind Pappy's. Hotels and house rentals are also available throughout the high and low desert including one of our faves, @​themoonjoshuatree​.

Tickets for Saturday, April 11 are available for $45 and for Friday, April 17 are available for $39.50 now via ​www.desertdaze.org​. Limited two-day passes are also available for $84.50.

Venue Information:
Pappy & Harriet's
53688 Pioneertown Rd
Pioneertown, CA, 92268